If you are as obsessed with your grandmother's chic fashion, interior design and love of entertaining as I have always been, then you may be a grandmillennial. A grandmillennial is a term that applies to someone in their 20s-30s who has an appreciation of traditional design style, arts and crafts like needlepoint pillows and chinoiserie vases but with a fresh eye. The term was coined in an article by Emma Bazilian of House Beautiful back in Sept 2019. It has been sweeping over Instagram and naturally influencing the wedding world ever since. (Just don't call it a trend, we grandmillennials abhor trends.)
Sounds like you? Then grab some tea and read on.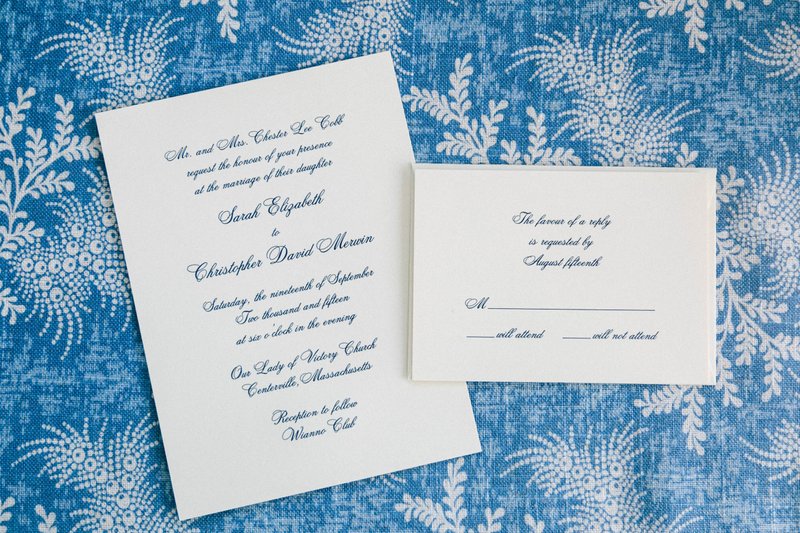 A grandmillennial style wedding is infused with traditional design elements, meaningful touches and amazing hospitality for guests no matter the size of the wedding. These can be subtle, like vintage postcards of your favorite travel destinations on the tables, favors baked with your grandmother's recipe or more obvious, layered tablescapes in blue and white and elegant florals.*
In terms of fashion, you can never go wrong with black tie (real, not clip on) and a dress with bows or long sleeves, even your mother's wedding gown. (Kate Middelton's long sleeves wedding gown and perfectly sized lily of the valley bouquet is still one of my favorite looks.) Venues should be personal, like private homes, clubs or anyplace you or your family have history would be a fitting location for a grandmillennial wedding.
I, for one, am thrilled to see this style being more widely embraced! My grandmother, the late Mrs. Walter William May of New Orleans, who I called Nonna, still inspires me. Her homes were filled with objects from her travels, antiques, abstract art and gorgeous custom floral curtains and bed canopies. She began taking me to tea at the Windsor Court from about the age of 5 (white gloves, naturally) and later as her date to society weddings.
Her influence was deeply felt at my wedding despite her having passed away shortly before. I chose my venue and hotels because they connected to her personally and her style. One of my favorite photos of the day is an image with her dearest friends, all but one has since passed. As a wedding photographer, I can't help but be attracted to weddings that remind me of her style and high standard of service. (And of course, I'll never pass on an opportunity for afternoon tea somewhere chic!)
* Strive to be authentic and meaningful and let the decor tell your story. Beware of commercialized grandmillennial decor, like ginger pots on napkins or topiaries on t-shirts. This style is about embracing tradition, great design and heritage, not cliches. Have the ginger pots, blue and white and topiaries galore, but don't make them tokens. A classic monogram or initials goes a long way here.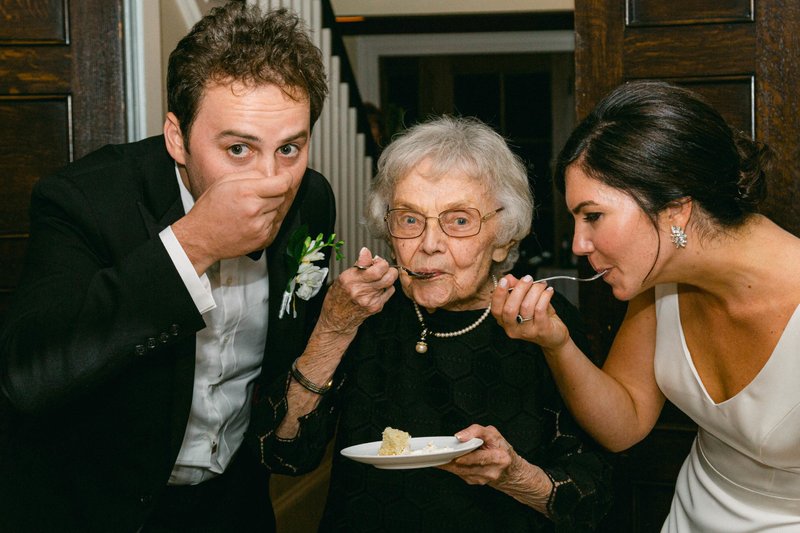 The more opportunities to include grandmothers in your photos the better! I loved this moment where the couple cut the cake with her.
Grandmillennial Wedding Photography
A wedding is about the creation of a new family and a celebration that brings together the most treasured possessions in your life: the people you care about most. How you set the table (or stage, really) shows your style and what you value. When photographing a grandmillennial wedding, the photographer's job is to beautifully and meaningfully capture the people and the essence of the day. So what does that look like? Here are my tips and best practices on how to photograph a grandmillennial wedding.
Understand the Story
Your details are intentional and meaningful, share the story of the details with your planner and photographer so nothing is missed. For example, is your jewelry heirloom? Did you pick a specific color and flower to honor a loved one or family tradition?
Can we go beyond the detail shots to also include people who are connected to them?
Does your family have any special traditions at weddings? Does an uncle always sing a song with the band or bust a specific dance move? Are there unique cultural traditions like special cakes, dances or cutting off the groom's tie? Give your photographer a heads-up for any unique traditions or planned special moments beyond the typical ones.
Take Intentional Group Portraits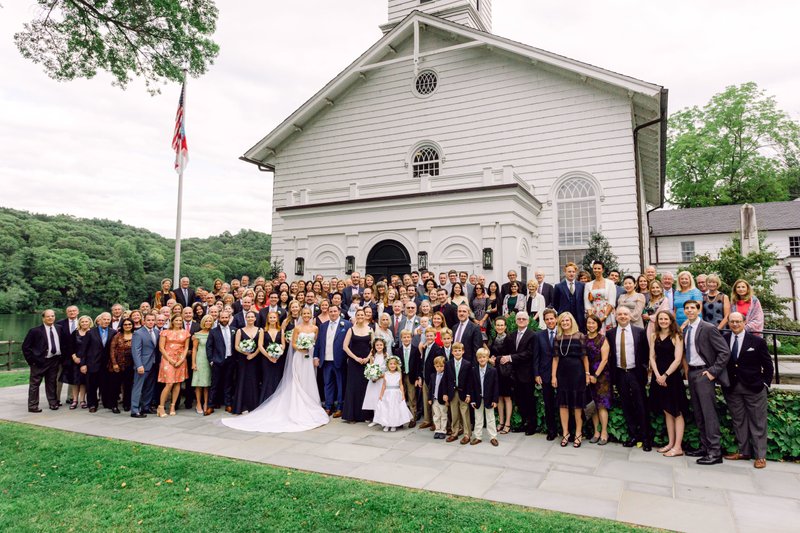 This couple wanted a group photo of all guests. That is never an easy task, but it is a worthwhile one and can be done easily with proper coordination. (And a handy step stool for the photographer!)
While capturing unposed, candid photos is a priority for most modern couples, traditional style wedding portraits are still very much important to the grandmillennial couple. Most weddings feature some form of formal portraits of immediate family and the couple. However, informal portraits also serve a place in documenting a wider range of guests and groupings. You will never get all of your high school friends in one place candidly, for example. Therefore, we must plan to document groups if they are meaningful to you.
Options for intentionally capturing guests include table shots (for getting photos of each person at a table with or without the couple), school and extended family group portraits done during the reception.
With an organized photography team, taking these photos can be done quickly and efficiently. In some cases, having more than two photographers may be necessary to create the best experience for everyone.
As opposed to a photo booth, the photographer comes to the group when assembled. (Give a person in that photo the task of rounding-up the people for the photo, there is usually one who is happy to help!) Sometimes the MC will be needed to announce large groups, which can ideally take place during band breaks. (If you'd rather not have it announced, appoint several people ahead of the wedding to gather the group at a predetermined time, like right after cake cutting.) Think about how you can add meaning to your wedding photography with intentional group portraits.
Don't Forget the VIPS
Weddings are a great opportunity to get portraits with your most treasured people. Do take the time to have photos with each parent, grandparent, sibling and wedding party member individually. When done well, they don't take long and these images are going to only increase in value over time. They also make excellent meaningful gifts, even years after the wedding!
Another important must have photo is one that includes both sets of parents with the couple. (Obviously, the exact configuration will vary from family to family.) Think about your future children and how neat it will be to have a photo with all of their direct descendants. There is only one photo of my parents and their parents together and it was taken at their wedding. What opportunities may only happen at your wedding?
Get Ready in Grandmillennial Style
While the wedding ceremony and reception locations will be designed to your style, don't forget about getting ready. Select a location that aligns with your style, and that of the wedding. Most importantly, ensure it is spacious enough and has great light. Think about the specific people you'd like to have there and make sure they are dressed and ready BEFORE you are getting dressed so they can be in the photos.
If you'd rather your photographer spend the wedding day focused on moments, arrange to have the details like paper, dress, shoes, etc photographed before getting ready starts or the day before. Coordinate with the florist and your planner to have the right backgrounds and styling details on hand.
Celebrate Weddings of the Past
Like the grandmillennial that I am, I love seeing photographs of the couple's parents and grandparents on their wedding days. Your wedding is a great time to dust off their albums, make new prints and have restoration work done if needed. These are typically displayed at the reception by the guest book and give guests something to look at and reminisce. Restored photos also make great thank you gifts to relatives helping with the wedding or just because.
Another way to remember a past wedding is to wear a mother's dress, or have parts of the dress remade into a new dress. Another option is to have a piece wrapped around your bouquet and even attach a small photo. Heirloom veils and jewelry also make great "something old" or "something borrowed".
Preserve your Visual Legacy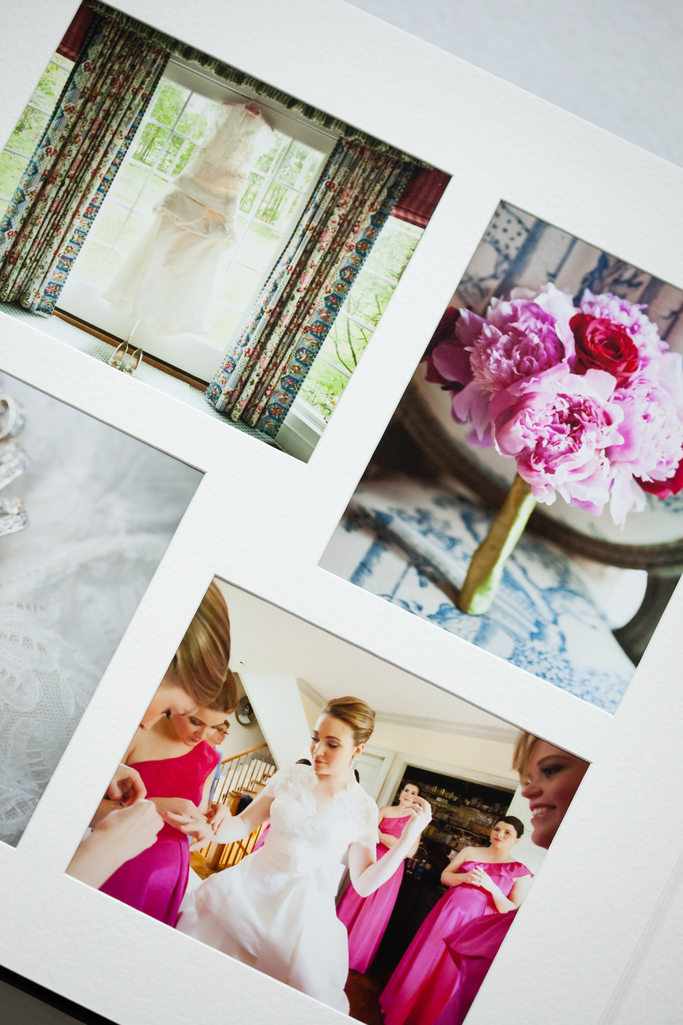 My grandmother always had at least two different tables or consoles full of small framed photos. The frames were silver, porcelain or anything lovely and depicted the people she loved most. (Some people display these on grand pianos, but my grandmother and I played hers!) The 5×7 or 8×10 option is ideal for table top display and especially for gifts.
Framing series of larger black and white images with nice thick mats and chic framing would be lovely in your home. In addition, one of my favorite ways to share wedding photos is with a traditional style matted album that tells the story if the day.
Unlike albums in the past, these aren't the slip in kind, but are more like a collection of matted prints bound together. Covers range from classic leather, to vegan micro leathers and linen. My album maker offers the option of matted and full bleed pages, which is a fun twist on modern and traditional styles.
On a practical note, always create back-ups of your digital and print wedding photos. For any prints you will be displaying, create a copy and place in dark storage, like an archival box or safe in a climate controlled room. Use silver gelatin for black and white images (even digital can be printed this way) or archival pigment, also known as giclée or inkjet, prints. (In proper storage, these are rated at 250+ and 200+ years, respectively.) In additional to online back-ups, consider placing a USB thumb drive or hard drive in a safety deposit box or at a relative's home. As technology advances, transfer the files to newer storage types.
If you're planning a grandmillennial style wedding anywhere in the US, I'd love to hear from you.
Grandmillennial Wedding Inspiration
Designers
Instagram Influencers
Tablescape Rentals
To Collect