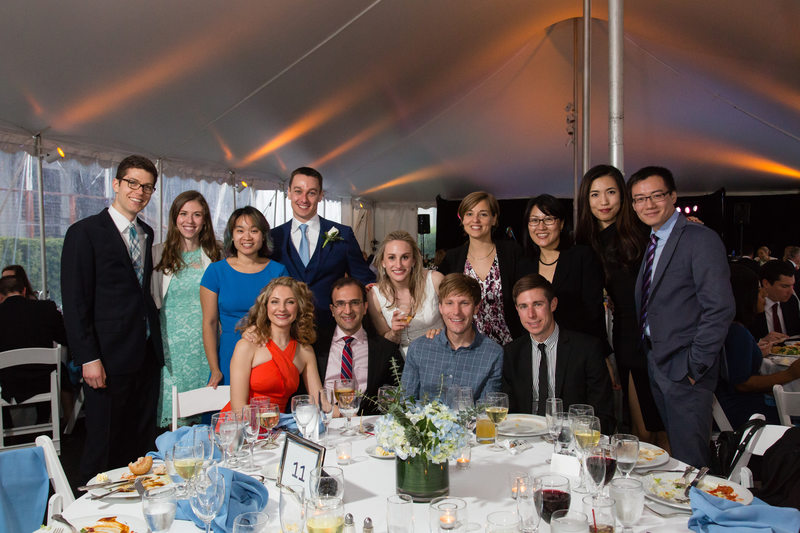 What the Heck Are Wedding Table Shots?
If you are from the South, you have likely never heard of wedding table shots. Most weddings there are cocktail style, so this will not be feasible. However, if you are having a sit-down dinner you may be considering them. (Having a cocktail-style wedding reception? See #2 under "Compromises" below.) Traditionally, the wedding photographer will ask half of the table to stand behind the other half for the photo so we can see everyone's faces. This is easier said than done as often guests wander away or are in the middle of eating.
Why Should We Do Wedding Table Shots?
Your parents will likely have strong feelings in favor of this, as it is standard traditional-style coverage like what they had at their wedding. Prior to more photojournalistic-style wedding coverage and digital photography, this way of documenting a wedding was in vogue. Many couples today prefer more candid coverage and don't want to spend precious time taking posed photos with guests or monopolizing their photographer's time. However, I have had more couples requesting total or partial table shot coverage recently. Below are the pros and cons to taking wedding table shots.
Pros
1. Table shots will help you capture all the guests. This is not a terrible goal to have and is probably one of the only ways one can quickly accomplish this.Many years after your wedding, these photos that seem boring now could become some of your favorites because no one is left out and you can see their whole face. (I cannot guarantee that when I only/mostly do candids.)
2. If done in tandem with greeting guests, doing these can be an organized way to greet and take photographs with your guests.
3. The resulting photos are great gifts and can be included in thank-you cards.
4. Parents love these photos. Why? I suspect because they had them taken at their weddings AND they see the value in having everyone there photographed.
Of course, there are some cons to spending your time or your photographer's time on this.
Cons
1. Quite simply, wedding table shots are time-consuming and possibly annoying for guests who are trying to eat. Most seem happy to comply, but it does interrupt the dinner (though I always try to do them during appetizers or salads), but depending on the guest count and the number of photographers, it can take longer.
2. Table shots are old fashioned in many couple's eyes. They would rather take more candid photos of guests.
3. You will likely need more photographers. When shooting solo, I find it very difficult to provide coverage of VIPs and moments when I'm spending time waiting around for Aunt Helen to return from the lavatory while shooting all the tables. The key to getting these done quickly is doing them as soon as guests are seated for their first course and are eager to see what happens next.
Set aside about 20-30 minutes for these in the beginning and coordinate with the DJ or band to NOT start a dance set. Of course, once the dance floor is open, it is hard to find full tables. If you are commit and plan, you can do it.
4. Even with multiple photographers, doing wedding table shots can be a trade-off with photojournalistic coverage. However, if the couple accompanies the photographer, it can be an opportunity for both. This works well doing them during entrees. The couple eats first and spends the rest of the dinner greeting guests and taking photos. Dancing begins once ALL tables are finished (or just the ones you want).
5. Some venues are really too small for this. I recently photographed a wedding where the tables were packed in the room. As a result, I would have to bring groups on to the dance floor, which would have been really inconvenient. So, do consider if you have the space for this.
Compromises
1. Target a few tables you really care about. Make an effort to be in the photos if you wish. If you plan your table seating chart with this in mind, it will make it more efficient.
2. If you decide doing wedding tables shots would be too time-consuming or you are having a cocktail-style reception, take a few specific large group (friends/family) photos on the dance floor. Do it during a band break or plan with the DJ to announce the groups. Give guests a heads-up when this photo will take place, and don't make it too late in the evening.
3. If you want to keep your coverage mostly photojournalistic, make sure your photographer understands you want the tables covered as well if just candidly. I always look for the couple as they go from table to table (and yes, if you don't have a receiving line, this is a lovely thing to do!) and watch for moments to occur. Often, we will take a few posed shots with special guests.
Final Thoughts
Think about why you'd want these photos and if taking them would negatively impact your wedding experience. If you decide in favor, give your photographer time/staff to do it right and advance notice in case they need more staff. These photos will add lots of value to your wedding coverage if you desire them.